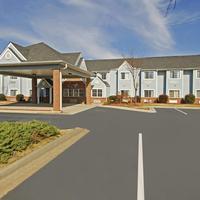 評價
Not even worth the cheaper price.

Close to the freeway (most hotels are anyway). The price was cheap thru Kayak. Even though I was told to leave at first because they didn't see the reservation.

To start off the staff was rude, never have I been greeted in such a way that I am bothering three late teenagers (or early 20s) to get up from their seats and away from their phones. The first words were "I never received a reservation so you need to pay now or just go somewhere else". I told her again all the information, her reply was "Oh you got lucky, here it is" I said again it was already paid for; she insisted that nobody pays for reservations. I had to introduce her to the well known app Kayak. So my family proceeds to the room, my daughter stops to ask about the wi-fi password, one of the staff members says "it is not for guests to use". We get to the room and I can hear an alarm screaming in the room; come to find out a broken alarm clock that is constantly going off and the only way to stop it is to unplug it. There were stains on the flooe and our room was non-smoking but smelled as if there was constant smoking. My wife proceeded to go downstairs to retrive a bottle of air freshener, she saw several other unhappy customers. The staff lady at first refused to hand her the bottle because she said other guest don't always bring it back. Our question was "Why do most of the rooms smell that all other guests need this?" To a resounding YES to the others in the lobby. My wife again inquired about the wifi; another guest had to tell the staff member that HE had to call corporate to get the codes and put them at the front desk for other guests. It was always intended for guests. Before coming upstairs staff told my wife out of nowhere that breakfast would only be served at 7 and staff refuses to make anything more than the first batch of whatever they make. Meanwhile I'm upstairs trying to get the AC to work in the room. I call the desk; they told me they already knew about it and it would be fixed at a later date. They also said I couldn't have another room because I supposedly reserved this "specific" room on my app. (Which sounds ridiculous). In the morning my wife went downstairs while we were sleeping to grab us all something from their breakfast. It mostly was just a couple convience store pastries that were offered. Before she was able to leave she was told only ONE item per guest and she said she knew the other two were for her daughter and I, but again was scolded and told she had to eat it downstairs and wake us "lazy" people to come down and get our own "damn" snacks. I later before leaving jokingly said what is it with these people they act as if that hotel is their house and we're all unwanted guest... I later discover while leaving SEVERAL ROOMS, are private rooms of staff and they all DO live there. Short story; don't stay there.

Very basic. .had 2 beds and a shower. .which is all I was looking for. . room smelled and was dirty. . .

Odor in the room. . carpet dirty

Good value

The hotel was located with easy access off I-85, close to where my next day meetings were. Typical economy hotel but with a couple of surprises 1) the room was oversized with a separate sleeping area, and seating space. The room was very cold upon my arrival, which after a hot day was refreshing and there was virtual no noise from the roadway, other guests, etc. Very quite. Paid $57.00, which if you are on a budget is a great deal. I would stay there again.

Nothing that I didn't particularly like. My expectations were fairly reasonable (likely lower than many other people) and generally they were exceeded.
沒有找到評價。請移除一些篩選項目,更改搜尋內容,或清除所有篩選以查看評價。
飯店簡介
概覽
When you stay at Americas Best Value Inn & Suites McDonough in McDonough, you'll be 7 minutes by car from Sky Zone Trampoline Park. Featured amenities include a 24-hour front desk, laundry facilities, and an elevator. Free self parking is available onsite.
Hotels.com
顯示更多
設施
保險箱
現場自動提款機
免費無線上網
免費早餐
禁止寵物
免費停車
每日房務清潔
無障礙設施
吹風機
健身中心
洗衣設備
電梯
空調
24小時櫃檯
指定吸煙區
地點
最熱門地標
Heritage Museum 4.4公里
Heritage Park and Veterans Wall of Honor 4.4公里
Oak Grove Community Church 6公里
Southern Belle Farm 8.9公里