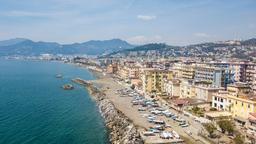 搜尋並預訂阿馬爾菲住宿
同時搜尋數百家旅遊網站,為你尋找阿馬爾菲的飯店
有用資訊
| | | |
| --- | --- | --- |
| 旅遊淡季 | 2月 | 入住飯店最便宜的月份,價格平均可下降86%。 |
| 旅遊旺季 | 5月 | 入住飯店最貴的月份,價格平均可上升47%。 |
| 平均價格(平日) | NT$ 7,637 | 過去2星期的週日 - 週四平均價格。 |
| 平均價格(週末) | NT$ 7,674 | 過去2星期的週五及週六平均價格。 |
搜尋阿馬爾菲完美飯店的小秘訣
Amalfi is one of the most popular tourist destinations in southern Italy for its incredible coastal views. Choose a hotel near the famous Marina Coppola Poro di Amalfi or Cappuccini Convento for picturesque views of the city's docks and sea.
Amalfi is a vertical city, so consider choosing a hotel closer to the docks if travelling with young kids, for less walking and easy access to restaurants and stores. Hotel Marina Riviera is a beautiful hotel just steps away from Amalfi Beach, with easy access to the town, swimming pool, and complimentary breakfast, this is a great option for families.
Like arts and culture? Consider booking a hotel along the city's main street, Via Lorenzo d'Amalfi, where you will find the Amalfi Cathedral, Maritime Museum, and the Museum of Paper within 10-15min walking distance of each other. The Hotel Residence or guest houses like Palazzo Gargano are excellent properties located on the main street, minutes away from these arts and culture sites.
For newlyweds or couples, choose a luxury hotel with stunning views to enjoy a romantic getaway. Set along the Italian coastline's cliff-edge, you can choose from many five-star rated hotels with postcard views of the Amalfi Coast. Santa Caterina is an excellent hotel overlooking a bay. With spa facilities and beauty salon on site, as well as a private beach and pool, it is a popular choice for couples wanting a luxury getaway.
If you enjoy long, scenic walks, Amalfi has no shortage of hiking trails among its seaside cliffs. If you're interested in hiking routes such as The Path of the Gods, choose a hotel near to Agerola or Praiano, which are the trail's departure points.
預訂阿馬爾菲飯店的常見問題與解答
受新型冠狀病毒(COVID-19)疫情影響,入住阿馬爾菲飯店是否安全?
Where is best for business travellers to stay in Amalfi?
Where is best to stay to be close to Amalfi's main attractions?
Where is best to stay in Amalfi for nightlife?
Are hotels in Amalfi open all year long?