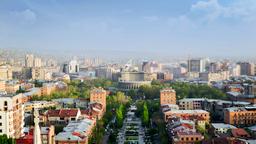 搜尋並預訂埃里溫住宿
同時搜尋數百家旅遊網站,為你尋找埃里溫的飯店
有用資訊
| | | |
| --- | --- | --- |
| 旅遊淡季 | 1月 | 入住飯店最便宜的月份,價格平均可下降53%。 |
| 旅遊旺季 | 4月 | 入住飯店最貴的月份,價格平均可上升13%。 |
| 平均價格(平日) | NT$ 2,213 | 過去2星期的週日 - 週四平均價格。 |
| 平均價格(週末) | NT$ 2,038 | 過去2星期的週五及週六平均價格。 |
搜尋埃里溫完美飯店的小秘訣
If you plan on soaking up luxurious comfort on your next holiday, you can't beat the Golden Palace Hotel Yerevan. Centrally located near popular attractions such as the History Museum of Armenia, marble bathroom details and antique wooden furnishings deliver an air of elegance.
Reinvigorate your wardrobe and get a feel for the vibrant local community by finding a hotel near Vernissage Market. L'image Art Hotel looks out across the buzzing stalls and serves a buffet breakfast to fuel your shopping.
Business travellers wishing to be in the middle of the action should search for accommodation between Republic Square and the Armenian Opera Theatre. Consider ibis Yerevan Center, where you'll get streamlined service and access to a business room.
Get a new perspective on Yerevan by staying in the eastern neighbourhood of Nork-Marash. Book Arève Résidence Boutique Hotel and you can enjoy sweeping views of the city from the comfort of your own private balcony.
The Kond area in western Kentron has a lively fusion of historic winding streets and modern street art. Nor Dzoraberd Hotel Complex is located on the outskirts of the trendy neighbourhood and has rooms and suites that look out towards Ararat Mountain.
Take in traditional Armenian architecture and let your imagination wander by staying in the Kanaker district. Once a separate town, the area has held on to its heritage origins. Popock Qanaqer has double and family rooms available as well as an outdoor dining space.
預訂埃里溫飯店的常見問題與解答
受新型冠狀病毒(COVID-19)疫情影響,入住埃里溫飯店是否安全?
Which hotels in Yerevan are near the airport?
What is a good area of Yerevan for families to stay in?
Which hotels in Yerevan are located close to the Cascade?
What is a cheaper area of Yerevan that is still well connected?
Which hotels in Yerevan are surrounded by restaurants?