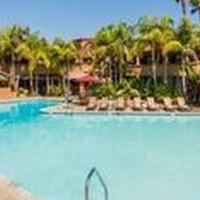 King bed

Double bed

未知

Double bed

未知

Double bed

Double bed

Double bed

未知
未知
未知

未知

評價
Nice Older Hotel

Well Kept Buildings & Grounds Nice Rooms Excellent room service breakfast delivered right on time (order the night before on doorknob hanger)

Could use more shelf space in bathroom for toiletries

Solo fun trip

I liked all the amenities. There was a hair salon, aa bar and other shopping inside the hotel. Bed was really comfortable and it was a beautiful room.

The bar closed to early as well as the munchie shop in the main lobby.

check-in and check out was smooth and done in quick order. Room was clean and well furnished Pool area, jacuzzi and fitness room clean and good presentation. Best point was there were no "hidden" charge on bill, i.e., safe in room, mini-bar, etc., when checking out

nothing

It's okay

It was in San Diego! So tried not to spend too much time inside the room. The bed was reasonably comfortable. The front desk staff were helpful and pleasant.

Terrible Internet connection in my room - though wifi was free. Bad location - stranded on the side of a highway, where only food option is the hotel's restaurant, which consistently served the average & overpriced food at room temperature. Restaurant staff was disorganized and not helpful - waited for my check for half an hour every time. Smelled musty/smoky - just older and kind of run down place Poor water pressure in the shower

Beds were comfortable. Air conditioner in each room worked well. Staff were friendly, and was able to check in early. Food was okay.

The room smelled of mildew. One banquet the grapes were moldly.
沒有找到評價。請移除一些篩選項目,更改搜尋內容,或清除所有篩選以查看評價。
飯店簡介
概覽
Located in Americas Finest City the Handlery Hotel San Diego offers guests the perfect travel experience. As a 4th generation family owned hotel, we create great experiences for our guests by offering comfortable rooms, a warm atmosphere and personal service. Ideally located in San Diegos Hotel Circle offering easy access to all major points of interest.
iHotelier/iStay
顯示更多
設施
現場自動提款機
禁煙
婚禮服務
免費無線上網
保姆或托兒中心
商務中心
餐廳
酒吧/休閒廳
可帶寵物(需申請),可能有額外收費
美容沙龍
特快退房
陽台/庭院
每日房務清潔
無障礙設施
吹風機
健身中心
門房服務
有線或衛星電視
禮品店
洗衣設備
電梯
洗衣服務
空調
會議/宴會設施
保險箱
客房服務
長期停車(收費)
停車(收費)
Spa
熱水浴缸
室外泳池
24小時櫃檯
備有儲物室
飯店圖片
關於漢德利酒店 - 聖地牙哥的評價
「Value for money in San Diego!」
「The staff are friendly and helpful.」
「Overall great experience at Handlery Hotel.」
「The beds were very comfortable」
「Shuttle bus was most useful」
「clean quiet free parking courteous front desk.」
「The pool area was amazing!」
「The restaurant was great and the bar」
「Service is just great.」
「Very nice and comfortable room」
「We loved the pool!」
「Love the relaxing area surrounding the pool.」
「Great staff and good location」
地點
最熱門地標
老城聖地亞哥州立歷史公園 2.5公里
聖地亞哥動物園 3.8公里
Botanical Building 3.8公里
聖地牙哥海事博物館 4.4公里
Mission Bay Park 5公里
聖地亞哥海洋世界 5公里