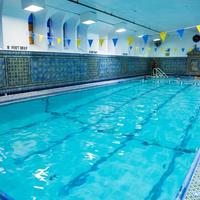 未知

未知

未知

Bunk bed

未知

未知

未知

未知

未知

關於基督教青年協會西邊酒店的評價
It's awesome, centrally located near Central Park, Lincoln center, Columbus Circle, and mid town. There's a Starbucks and AOL Time Warner building for shopping.

OK if you have ear plugs

For my trouble I was given 2 entries to empire state building.

Room floor was never cleaned. When I arrived I was given a room that was not clean. The second room was horribly noisy at night, it was in front of the elevator and the was a noise of something dropping inside a pipe. The third room I was in was in a floor being refurbished. This floor was very good but very noisy around 9 pm. After 1 night in the third room I was told I had to change. The manager wanted to give us 2 bunker beds and we are a couple, we payed more to sleep together. Fourth room was kind of OK. Notice that all the doors in the hotel make a big noise so you need ear plugs to be OK.

Great location, gym and pool

Excellent location near Central Park, close to subway stops. One of cheapest places to stay in NYC. Single room had AC, small flat screen TV, desk and chair. Free wifi that works fairly well. Can store luggage before checking and after checking out for $2 per bag. Can use Y facilities, gym, pool, etc.

Communal bathroom is usually a mess. Water on floor, sinks stopped up and horrible smell. Sometimes noisy with slamming doors so bring ear plugs just in case

Sheets and a blanket was a pleasent surprise! Also cleaning every day was luxury thing. Room was warm and the hallways were in good condition. Bed was comfy too. Staff in helpful and you can enter the guesthouse anytime.

The toilet at the 9th floor is hidious. There was some little bugs flying, I thought that okay whatever, but when I saw a cocroach I thought this is too much. You can use the swimming pools showers and toilets, they are renovated and in excellent condition.

Great location, clean and spartan accommodations,

Pool was fun. Staff was wonderful. Room was inexpensive. Location was great. Room 905 -- private bathroom was nice for us traveling as a father and son.

Very Spartan. Feels like an old apartment building or dorm room -- room floor is linoleum, tile is old, windows are old. The room felt clean, but there is grime in the corners.
沒有找到評價。請移除一些篩選項目,更改搜尋內容,或清除所有篩選以查看評價。
基督教青年協會西邊酒店簡介
概覽
With a stay at West Side YMCA, you'll be centrally located in New York, steps from Central Park and 3 minutes by foot from Lincoln Center. Featured amenities include a business center, a 24-hour front desk, and multilingual staff.
Hotels.com
顯示更多
基督教青年協會西邊酒店的便利設施
有窗
免費無線上網
商務中心
整個單位提供無障礙通道
網路
每日房務清潔
無障礙設施
家庭間
床單
毛巾
保險箱
滅火器
電梯
平板電視
會議/宴會設施
精通多語的工作人員
免費盥洗用品
共用浴室
恆溫泳池
共用休息室/電視區
防火警報器
共用馬桶
暖氣
淋浴
無接觸自助辦理入住和退房
電梯直達
可提供口罩給客人
用餐地區需保持安全社交距離
社交距離規定
健康俱樂部
急救包
住宿由專業清潔公司清潔打掃
Spa
有程序檢查客人健康
使用房卡
共用區域有CCTV閉路電視
住宿外圍有CCTV閉路電視
禁煙
隔音效果
住宿和重點區域均提供洗手消毒液
沐浴乳
健身中心
儲物櫃
在適用位置為員工和客人之間加設屏障
有線或衛星電視
使用針對冠狀病毒的清潔劑
瓷磚/大理石地板
24小時保安
空調
非羽絨枕
廁所
更換住客期間會徹底消毒住宿
衛生紙
客房清潔後會貼上已清潔標簽
住宿為住客提供溫度計
保險箱
桑拿浴
壁球
衣架
垃圾桶
住客可以選擇不使用住宿清潔服務
電視
高層可乘電梯
泳池毛巾
工作人員將致力遵守當地政府所發出的安全和清潔指引
書桌
自動販賣機(飲料)
咖啡店
自動販賣機(零食)
站立式淋浴間
衣櫃
24小時櫃檯
蒸氣室
備有儲物室
預訂基督教青年協會西邊酒店的常見問題
基督教青年協會西邊酒店的位置在哪裏?
基督教青年協會西邊酒店的入住時間和退房時間為何時?
基督教青年協會西邊酒店有免費提供Wi-Fi嗎?
基督教青年協會西邊酒店有提供免費停車嗎?
基督教青年協會西邊酒店有提供免費機場接送服務嗎?
基督教青年協會西邊酒店距離機場多遠?
基督教青年協會西邊酒店有附設泳池嗎?
基督教青年協會西邊酒店的照片
關於基督教青年協會西邊酒店的評價
「"Superb location, clean rooms."」
「Beautiful and quiet area- just a minute's walk above Columbus Circle!」
「"GREAT location, comfy beds, friendly staff."」
「Also close to subway's station.」
「Very close to central park」
「The swimming pool is fantastic」
「Super kantine and Central park near by」
「Great accommodation Great location Great price.」
「Perfect location and very confortable」
「Great value for money in NYC.」
「The gym facilities are great」