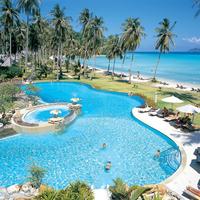 評價
Loved this place

We absolutely loved this resort! From the minute our longboat pulled up, the service was amazing. All of the staff were really accommodating and friendly. We really enjoyed the spa where we did a couple massage in a private bungalow. The oceans views were wonderful. We had lunch at the restaurant in the main lobby area and enjoyed it both times. The hut style hotel room was spacious and clean. We were overall very impressed!

The boat ride to get to the resort was 200 baht per person. We felt that this should have been included since the only way to get there is by boat. We loved the village in back of the resort but this would not be a place to stay if someone wanted access to the bars/restaurants at Tonsai Bay at night. There is a longboat that goes there twice a day though (10am and 3pm).

Amazing

Everything in this hotel was perfect!!!! From the location to the hotel staff service

Good if you want to get away from everything

This place is good if you want to get away from everything, in a remote part of the island where you can do whatever you want, on their resort of course. There is little of anything outside of their resort unless you want to take a water taxi 30 minutes away.

When we made the booking, we wanted a nice place in a quiet area with a nice pool and on the beach. We have a 6 year old daughter and we made the reservation with 2 adults and 1 child. When we got there at check in, we were forced to pay a "child fee". Nowhere on the Web site was there any mention of the child fee, and they cited "hotel policy". If I had known this up front I would have considered this as the total cost of the hotel. Also, if you want to go into town, there are only 2 options. 1) walk about 2 hours through the woods. Or 2) pay for a private water taxi to get you there. If you have a problem with mosquitos this place is not for you. It's full of mosquitos, but bug spray is available in the minibar and a fogger is available for free to kill them in your room.

We loved the laid back attitude of the staff yet they were always there to help you. Very polite and professional

Gorgeous grounds, accommodations and excellent staff. We booked a deluxe room and it was really nice and comfortable.

A little hard (and expensive) to get there from Phuket. We, a family of four, spent almost $700.00 to get from Phuket to the resort and back as the ferry times did not coincide with our flight times in and out of Phuket. We had to take a private speedboat to the island and then take the resort's private boat back. If possible, take the ferry, it would have only cost us around $100.00 for the four of us, round trip!
沒有找到評價。請移除一些篩選項目,更改搜尋內容,或清除所有篩選以查看評價。
飯店簡介
概覽
With a stay at SAii Phi Phi Island Village in Ko Phi Phi, you'll be 1.2 mi (2 km) from Laem Tong Beach and 4.4 mi (7.1 km) from Long Beach. Featured amenities include dry cleaning/laundry services, a 24-hour front desk, and luggage storage. For a surcharge, guests may use a roundtrip airport shuttle at scheduled times and a ferry terminal shuttle.
Hotels.com
顯示更多
設施
電熱水壺
商務中心
整個單位在地面一樓
鬧鐘服務
網路
每日房務清潔
傳真機/影印機
家庭間
門房服務
風扇
現場貨幣兌換
滅火器
禮品店
洗衣設備
熨燙服務
洗衣服務
平板電視
會議/宴會設施
免費盥洗用品
水果
園景
附設商店
客房服務
防火警報器
木板地
觀光旅行櫃檯
桌遊
兒童書籍、DVD光碟和音樂
無邊際泳池
Spa
内院景
獨木舟
熱水浴缸
提供連通客房
兒童泳池
iPhone 底座
室外泳池
水肺潛水
潛水
潛水
使用鑰匙
晚間娛樂
兒童餐
烹飪課
餐廳
酒吧/休閒廳
美容沙龍
吹風機
健身中心
有線或衛星電視
山景
24小時保安
空調
兒童戶外遊樂設施
非羽絨枕
戶外用餐區
戶外家具
機場接駁巴士(收費)
保姆/兒童服務(收費)
禁止寵物
可看到泳池的景
遊樂場
景觀泳池
附設水上運動設施
私人海灘
咖啡店
浴袍
私人浴室
花園
24小時櫃檯
指定吸煙區
私人入口
蒸氣室
備有儲物室
接駁車(額外收費)
私人泳池
水療與養生中心
婚禮服務
免費無線上網
訂票服務
室外網球場
提供禁煙室
陽台/庭院
頂樓泳池
海灘毛巾
床單
毛巾
保險箱
海景
閒坐區
遠足
按摩
圖書館
洗髮精
池畔吧
淋浴
浴帽
拖鞋
額外浴室
小吃吧
額外馬桶
沙發床
沙發床
陽台
浴缸
坐浴桶
沐浴乳
瓶裝水
房内早餐
泡茶機/咖啡機
電話
CD 播放器
廁所
衛生紙
保險箱
桑拿浴
牙刷
毛巾/床單(額外收費)
衣架
垃圾桶
電視
潤髮乳
書桌
用餐區
餐桌
站立式淋浴間
衣櫃
曬衣架
DVD 播放器
水上溜滑梯
飯店圖片
關於皮皮島鄉村海灘度假酒店的評價
「Great place to watch sunrise.」
「Loved every bit of it!」
「Facilities and hotel was amazing.」
「The breakfast buffet was delicious.」
「Very nice bungalows, good beach.」
「beautiful location, beautiful peoples, incredible beach.」
「Amazing view Great swinning pools near the beach.」
「Perfect place, good food, nice staff」
「Travel back and fort Tonsai pier is not free.」
「The rooms, pools, breakfast was excellent!」
「Great rooms and facilities.」
「Ruan Thai restaurant was amazing!」
「Boat arrival is fantastic.」
「Great staff , amazing restaurant.」
「Pick Up from Tonsai Bay.」
「The rooms were clean and very spacious, the beach is beautiful on high tide」
「The quickest way to access the resort is by long tail or speed boat.」
地點
最熱門地標
罗巴冈湾 167米
Phi Phi Viewpoint 1.6公里
Phi Phi Don 1.6公里
Ko Phi Phi Pier 2.4公里
通塞灣碼頭 2.4公里
藍通海灘 2.4公里