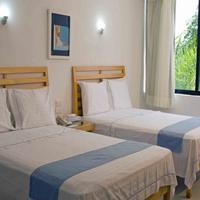 未知

未知
未知

未知

未知

未知
Twin bed

Double bed

評價
Very special happy atmosphere of a Yacht Club in tropics with marine adventure spirit, and very relaxing and quiet at the same time. All the territory is amazing jungle-looking garden. The pool is surrounded with tropical plants as well as the rest areas. The big palapa - restaurant is next to the pool. Food is inexpensive and tasty. Very cozy and comfortable unique place. We stayed there for 3 nights in the beginning of our trip to Riviera Maya, and came back for 3 nights again at the end of our trip. Rooms are very comfortable and well designed. Shower is big, hot water and water pressure is fine. Special Sotavento brand natural soap bars, high quality toilet paper, shower mats along with towels, free water bottles every day, great working air conditioner, comfortable beds are main details of room comfort. Staff is very friendly and helpful. It is secluded quiet place, and at the same time it is only about 250 m to the closest beach, ferry to the island and other attractions. Bus stop is about 100 m, so you can easily get anywhere in Cancun for 12 pesos. Bike/pedestrian path goes through all Zona Hotelera. We had a rental car, and we were always able to find free parking near public beaches except for Caracol where parking fee was 100 pesos per day.

Everything was great! No any improvement necessary but would be nice to have couple bars or hooks in the shower to hang dripping wet swimsuits. Also, would be nice to have brakes on wheels for beds to fix their positions on the floor better, so they won't slide if someone sits down carelessly.

Excellent value for price. The breakfast was good considering it was included. Jungle garden was well kept and interesting. Location is on bus line for easy access. Air conditioner worked well and kept room cool.

A small refrigerator in room would be nice, not necessary but nice. The breakfast was nice but never changed, maybe offer variety on different days.

Small boutique hotel offers good value

We have stayed here several times over the last many years. This is small boutique hotel that provides a clean, safe place to stay for a great value. The property has obviously been improved year over year, showing that the management is interested in maintaining a certain level of quality. Wi-Fi, which was previously so poor as to almost be a deal-breaker for business travelers was accessible and consistent this trip. The front desk staff are very friendly and helpful. The will go out of their way to accommodate every request.

The restaurant is convenient, but the food is merely adequate, not outstanding. The service is exceedingly slow, even by Mexican standards and the servers do not always give you the sense that they care. Breakfast is included in the price of the room, but sometimes leaves much to be desired. Depends on the day. The pool is a bit stressed from the volume of divers who are training daily in preparation to go out of the adjacent marina. There are a few nice quiet hours in the afternoons when the divers are out, and then the pool and gardens are glorious. All in all, it's hard to complain at this price.

Away from the touristy hotel zone-near the Dancer party boat

Charm, price, bed/shower/air conditioning

The price and location of this hotel were excellant. We only stayed one night but it suited us just fine.

The room seemed to be damp but this may have been the atmosphere created by the tropical garden.
沒有找到評價。請移除一些篩選項目,更改搜尋內容,或清除所有篩選以查看評價。
飯店簡介
概覽
With a stay at Hotel Sotavento & Yacht Club in Cancun (Zona Hotelera), you'll be within a 5-minute drive of Tortuga Beach and Turtle Beach. Featured amenities include a business center, dry cleaning/laundry services, and a 24-hour front desk. A roundtrip airport shuttle is available for a surcharge.
Hotels.com
顯示更多
設施
免費無線上網
商務中心
租車
鬧鐘服務
整個單位提供無障礙通道
網路
陽台/庭院
每日房務清潔
無障礙設施
傳真機/影印機
家庭間
海灘毛巾
床單
毛巾
保險箱
門房服務
現場貨幣兌換
滅火器
洗衣設備
洗衣服務
平板電視
會議/宴會設施
園景
附設商店
客房服務
淋浴
無接觸自助辦理入住和退房
觀光旅行櫃檯
用餐地區需保持安全社交距離
釣魚
社交距離規定
急救包
住宿由專業清潔公司清潔打掃
Spa
有程序檢查客人健康
兒童泳池
室外泳池
潛水
潛水
滑雪
日光室
禁煙
隔音客房
隔音效果
餐廳
酒吧/休閒廳
住宿和重點區域均提供洗手消毒液
瓶裝水
有線或衛星電視
電話
使用針對冠狀病毒的清潔劑
24小時保安
空調
廁所
更換住客期間會徹底消毒住宿
衛生紙
客房清潔後會貼上已清潔標簽
所有盤子、刀叉、杯子和其他餐具均已消毒
保險箱
機場接駁巴士(收費)
衣架
食物可以送到客人的住宿
電視
禁止寵物
免費停車
泳池毛巾
工作人員將致力遵守當地政府所發出的安全和清潔指引
書桌
私人浴室
花園
衣櫃
24小時櫃檯
指定吸煙區
私人入口
備有儲物室
接駁車(額外收費)
飯店圖片
關於索塔文托酒店及遊艇俱樂部 - 坎昆的評價
「great place to stay the staff was great , nice pool nice location.」
「The price was good.」
「Really nice place and very close to everything.」
「Room and bathroom were perfect.」
「Clean, cheap and friendly staff」
「food was good.」
「My room was kept beautifully clean and the bed was very comfortable.」
「Breakfast was outstanding」
「Excellent value in hotel zone.」
「Beautiful restaurant and pool area.」
「Good value for money」
「Nice tropical garden」
「Very close to the Embarcadero ferry to Isla Mujeres.」
「Great location, clean ambience and helpful staff」
地點
最熱門地標
Torre Escenica 276米
Parroquia de Cristo Resucitado 343米
Playa Langosta 1公里
Playa Tortugas 2.3公里
Cancun Golf Club at Pok Ta Pok 3.2公里
Iglesia cristo rey 4.3公里